I AM is home.  And I am complete.  The day falls away like a paper lab suit I peel off.
This is my English cottage in the woods, our cottage, really…what I imagine my heaven will look like.  The sun is starting to go down, the golden hour and a round front door ushers Him in.  I run to the door to greet Him.
I've been waiting all day to look into your eyes.  I take His face in my hands.   Jesus, you look so good to me.  He twirls me around as if I was light as a little girl.
You know how much I love you, Summer Joy?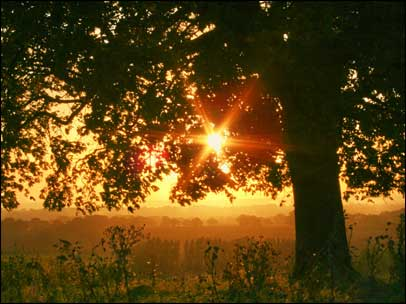 I eat supper with I AM in front of the fire on the round pedastal table between two wingback chairs and while cutting my chicken, I hit my glass, spilling my milk.  He laughs.  I love that nothing surprises Him, nothing torques Him.  I clean it up while we share jokes.  The crackling fire warms our hands, but His crinkled eyes do the same for my heart.  I AM is home.
He's home and I take a deep breath.  No more seeking.  No more pretending there is living water anywhere else but in His Presence.
You are the I AM and you are my home.