John Wesley provokes us to prayer with this quote: "God does nothing on earth save in answer to believing prayer." In response, I tremble and humble and know that my meager prayer life has not warranted calling down the kingdom to settle solid on this soil.
And if it is true that God wants all men to come to a knowledge of the truth, to have their sleeping masks ripped off and come into the light, than our first work is not in the going or the telling but in the asking.
I am learning to pray by using His Word, praying promises back to the One who did the promising.  Perhaps this guide will prove helpful as you pray for your Person? Included in the end is a printable PDF file to add simplicity to your prayer life.
Remember, God wants all to come to Christ:
1 Timothy 2:3,4  "This is good and pleases God our Savior, who desires all to be saved and to come to a knowledge of truth."
Pray aggressively against Satan.  Bind him on that person's behalf in the name of Jesus and command him to go to the place God has prepared for him:
Matthew 12:29 "How can anyone enter a strong man's house and carry off his possessions unless he first ties up the strong man?  Then he can rob his house."
Pray for freedom from captivity:
II Timothy 2:25,26 "…that God will grant them repentance leading them to a knowledge of the truth, and that they will come to their senses and escape from the trap of the devil, who has taken them captive to do his will."
Pray for healing from spiritual blindness:
II Corinthians 4:4 "The god of this age has blinded the minds of the unbelievers so that they cannot see the light of the gospel of the glory of Christ, who is the image of God."
Pray for a repentant heart:
Luke 13:3-5 "…but unless you repent, you too will perish."
Pray that the Father draws them to himself:
John 6:44 "No one can come to Me unless the Father who sent Me draws them."
Pray believing:
Mark 11:24  "Therefore I tell you, whatever you ask for in prayer, believing that you have received it, and it will be yours."
Pray for a team to share the truth:
Matthew 9:38  "Ask the Lord of the harvest, therefore, to send out workers into His harvest field."
Would the printable PDF be helpful? Click here.
This is Day 9 of the Lenten Series: Cross-Shaped Evangelism. If you would like to catch up, click here.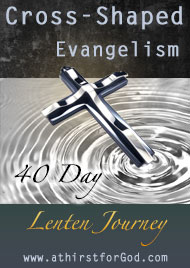 Would you like to continue to join me? Add your email address to the connect box on the right and push subscribe. Easy.