I've done it all wrong.
In my haste to see friends discover good news, I've pushed when I should have listened, gotten defensive (cough, I mean used apologetics) when I should have stayed placid, handed out Christian books before there was an ear to hear.
This was the book I was missing.  This book would have made me both bolder and more effective, while at the same time, more patient with skeptic friends. I Once Was Lost: What Postmodern Skeptics Taught Us About Their Path to Jesus was forged by two Intervarsity Staffers after interviewing over 2000 new Christians about their journey to belief in Christ.  Don Everts of the University of Colorado and Doug Schaupp, the regional director for campus ministries in Southern California,  leave room for mystery, understand that the path is wandering and sometimes makes switchbacks and encourages us to open our hearts to love first.
Out of the crucible of the raw interviews, Don and Doug found five thresholds emerged that each non-believer had to pass through before they desired to breathe Kingdom air:
Trusting a Christian,
Becoming Curious,
Opening Up to Change,
Seeking After God,
and
Entering the Kingdom.
Don and Doug encourage us to roll up our sleeves and become a part of the journey in whichever threshold we find our friend resident.
The book is practical but not simplistic.  They teach us how to come alongside our friends in a sensitive way and when to invite them to go further up and farther in.  And for Alpha lovers, the categories present in I Once Was Lost show us why the relationships built, the questions encouraged, the lack of judgment and the personal stories make it so effective.
This is the book I wish I could hand out to every Christian, every minister, every good news bearer.  This is my new evangelism textbook, the one I wished I had ten years ago.
This is Day 15 in our 40 Day Journey of Cross-Shaped Evangelism through Lent.  If you need to catch up, click here.
If you desire get more thirsty, type your email in the Connect box on the right and push subscibe.  Come journey with me, friend!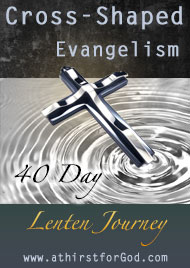 Linking with the wonderful storyteller and wordsmith, Jennifer Dukes Lee.